Is the Real Estate Crash looming?
Lately, the hot topic of conversation in real estate circles has been whether or not the real estate crash is looming on the horizon. Let's face it, all markets experience fluctuations. Therefore, it's not a question of if they will "crash", but rather when. The current market doesn't appear to be on the verge of a crash anytime in the foreseeable future. While it has indeed slowed down and we all know how much the FED has tried to artificially curve demand, this cooling of the market is more due to a shortage of inventory entering the market than an indicative of a lack of demand. It's important to note that every local market will be affected differently, but the likelihood of a national housing crash is lower than many might assume. Let's explore the reasons why I believe the real estate market is in a stable position for the long haul.
Unique Financing in the United States:
First and foremost, the United States real estate market is unique in the world due to its exceptional financing options. This advantage is largely thanks to government-sponsored entities like Fannie Mae and Freddie Mac, which have subsidized housing for decades. With real estate, you can borrow money at today's low rates and pay it back with potentially inflated dollars over time. Yes, you read that correct at today's low rates and that is because as of today 11/14/2023 a 30-year fixed FHA rate is at 7.72% the 30 Year Mortgage Rate in the United States has averaged 7.74% from 1971 until 2023, reaching an all-time high of 18.63% in October of 1981 and a record low of 2.65 percent in January of 2021. This financing advantage is a massive strength that makes a real estate crash less likely.
Affordability and the Wealth Gap:
Many voices on social media argue that affordability issues are a sign of an impending crash, but I see it differently. As the middle class continues to shrink due to inflation, the gap between the wealthy and the poor will widen, making the United States more closely resemble a third-world country than a capitalist economic super engine.
While housing affordability could indeed become an issue for first-time homebuyers, it presents an opportunity for real estate investors. As homeownership becomes less attainable for some, they turn to renting, driving rental rates higher. This, in turn, leads to more profits for investors, making real estate an attractive investment for the wealthy. As more wealth flows into real estate, it is more likely that property values will be driven up rather than pushed down.
Comfortable Mortgage Payments:
A significant portion of homeowners have comfortable mortgage payments, thanks to low interest rates and refinance opportunities during the COVID era. When adjusted for inflation, these mortgage payments have become even more affordable. This means that most homeowners have no reason to sell, resulting in a lack of distressed sellers—a crucial ingredient for a real estate crash.
Recently, I rewatched the hilariously absurd movie "Hot Tub Time Machine", and it struck me how the folks who refinanced or purchased homes during the COVID era seemed to have embarked on a time-travel adventure. You see, these individuals effectively transported themselves back a decade in terms of their mortgage payments. Let me illustrate this with some numbers. In 2011, the median mortgage payment hovered around $1,200, while the median house price stood at $260,000. Fast forward to 2021, and that same median house had seen substantial appreciation, reaching $380,000. However, here's the kicker: the median mortgage payments was more or less the same than they were a decade earlier at $1,400. This scenario might appear counterintuitive to some, as many people tend to fixate on the value of a home when looking at the market, but actually when people are shopping for a home the primary consideration is whether they can comfortably manage the monthly payment, not just the overall home value. Due to the historical low interest rates during the COVID era, these time traveling homeowners have found themselves in the fortunate position of having a very comfortable mortgage payment they wouldn't dream of giving up.
Low Availability of Properties:
Although some individuals with low-interest rate mortgages may wish to sell their homes, many find themselves compelled to retain their properties because the alternative proves more costly. The prospect of moving to a new house with elevated mortgage rates, increased taxes, and higher insurance costs is considerably unappealing. Moreover, as more people are excluded from the housing market, this exerts upward pressure on the demand for rental properties, leading to a surge in rental rates. In numerous cases, rents have surpassed actual mortgage payments. A pivotal factor in precipitating a crash in the real estate market is the high availability of properties, but the current market presents the opposite scenario.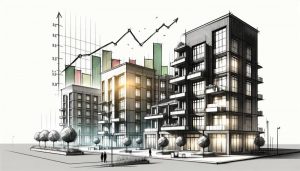 The Multi-Dimensional Nature of Real Estate:
As I wrote in my book, "The 4 pillars of Real Estate". A real estate investment is more than meets the eye. While some focus on just the potential appreciation and positive cash flow, there are numerous hidden benefits, including leverage, tax advantages, principal pay-down, and protection against inflation and dollar devaluation. Real estate is a multi-dimensional asset class that offers unique advantages that are not going away any time soon.
The Real Estate Crash Conclusion:
In the world of real estate, there's no such thing as a perfect market, but it's all about comparing it to the alternatives. When you weigh the benefits of real estate against other investment options, it's clear that real estate is the winner. The unique financing, wealth gap issue, comfortable mortgage payments, low availability of properties, and the multi-dimensional nature of real estate all point to a robust market in the long term.
So, while we can't predict the future with certainty, the current real estate landscape is looking quite resilient. If you're considering real estate investment, it's essential to understand the full scope of its advantages and make informed decisions.
As always, I'd love to hear your thoughts and continue this friendly conversation, so feel free to reach out.
Create a prosperous day!